Business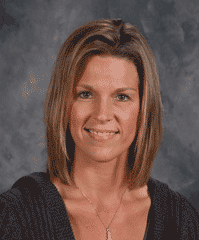 Contact: Susan Rucker
Business Instructor
FBLA Adviser
srucker@tinaavalon.k12.mo.us

Business Tech
Computer Literacy
Keyboarding
About Mrs. Rucker
-
Portfolio
Susan started teaching at Tina-Avalon R-2 School in August of 1999. She is a graduate of Tina-Avalon High School and received her Bachelor of Science Degree from CMSU (Warrensburg) in Business Administration in 1995. Susan received her vocational certification in 2001. In May 2009, she received her Master's Degree in Information Science and Learning Technologies from the University of Missouri, Columbia. Susan enjoys working with technology and loves working with such a great group of students.
DIGITAL COMMUNICATIONS
The Tina-Avalon School digital communications course is a year long course designed to create, publish and distribute the school's yearbook.  Students in this course are required to learn basic elements of design, layout and photography; become familiar with the Jostens on-line design program and Photoshop programs; learn techniques of selling ads to senior parents; create layouts and complete pages of the yearbook; and distribute the yearbook to the school population.  Outside class time is often required for members of the yearbook staff, and all staff members must recognize they represent Tina-Avalon School, the Yearbook Staff, and the Yearbook Advisor.
ACCOUNTING I
This course is designed to provide an understanding of the basic elements and concepts of double-entry accounting systems. Accounting I will provide students with a solid background for employment in office jobs and preparation for studying business courses in college. Topics covered include: accounting careers, transaction analysis into debit and credit parts, journalizing transactions, posting to ledgers, worksheet preparation, preparation and analysis of financial statements, and recording adjusting and closing entries. Students will complete work for businesses established as sole proprietorships, partnerships, and corporations. Open to sophomore students by teacher approval, junior, and senior level students.
COMPUTER APPLICATIONS
This computer applications course is designed to help students prepare for entry-level employment in the field of computers and information services and/or to help them prepare for more advanced college computer courses. Students will receive instruction in the field of information processing, which includes hands-on experience utilizing word processing, spreadsheet, database, and presentation software. Students will be using a Windows XP platform and Office 2010 integrated software suite. This course is approved for sophomore, junior or senior level students. Students may sign up for dual credit in Micro Computer Application I. In order to receive the dual credit, students must complete the year long course.
MULTIMEDIA
This course incorporates advanced elements of iMovie and Final Cut Pro. Projects included creating videos and commercials. This is a junior or senior level course. Microcomputer Applications is suggested as a prerequisite, but not required.
WEB PAGE DESIGN
This course is a hands-on learning experience designed to give students the opportunity to construct web pages and electronic presentations. Students are encouraged to use their creativity to complete projects on a variety of projects. Instruction includes creating web pages first using Hypertext Markup Language (HTML), then creating informational web sites incorporating text, graphics, tables, etc. Software includes using TextWrangler to learn html coding, then creating web sites in Adobe Dreamweaver.