******This & That ******
Pop Tabs
The FCCLA will be collecting pop tabs from now until the end of school for the Ronald McDonald House. Please bring them to Mrs. Trussell.
---
The Next Generation of Box Tops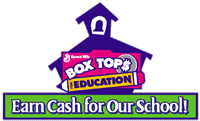 Box Tops is changing to fit today's families. The new and improved Box Tops mobile app
uses state-of-the-art technology to scan your store receipt, find participating products and
instantly add Box Tops to your school's earnings online. Find out how!