Photoshop Portfolio
Download Assignment as PDF
COMING SOON Download Scoring Guide PDF
Mrs. Rucker's Sample Portfolio in iWeb Site
Mrs. Rucker's Sample Portfolio on Wix.com Site
You will be creating an on-line portfolio to show-off your Photoshop skills. This will be one of the"final" projects in class. You will work on this as the semester goes on-when you have some down time in class or before/after school.
Instructions:
Create your portfolio by going to Wix.com and creating a new user profile.

Click Sign In
I'm a New User
Use your school email to create your profile with a password of your choice
Select a Photography Portfolio
You decide the theme
Explore the site - see what your options are

You Portfolio should have a minimum of the following pages.
Welcome

- the dominate picture should be a pic of you!!

About Me

- the dominate picture should be a pic of you!!

Photoshop -

Photo page with assignments.
NONE of these pages should include any of your personal (such as full name, address, birthday)
or boyfriend/girlfriend information.
You will include a brief reflection of your assignments. This is a reflection of YOU, your assignments and the knowledge you have gained from them. Your reflection should describe the process (what did you use/features), your satisfaction with it, frustration, etc. . . .
You are to include the following assignments in your portfolio.
First you will need to take them into Photoshop and do File/Save for Web and Devices.
Make them a width of 400 pixels and then click save. It will automatically save as a .gif.

Animated GIF - the one you created
Christmas Card Project- saved as 2016_Christmas_Card_Yourname
L5 Magazine Cover
L6 Photo in Text
L7 Comic Book
L12 iME Silhouette
L14 Food for Thought
L18 Celebrity Selection Fun Styles Project
L24 Crazy Text
L25 Thankful Wallpaper
B-O-T L7 Blending w/Layers & Gradients -

the one of you

B-O-T L12 Three Image Photo -

the one of you

B-O-T L16 Blend Photos Like a Hollywood Movie Poster  -

the one of you

B-O-T L22 Be A Hero Project
You should include a reflection for EACH photo assignment.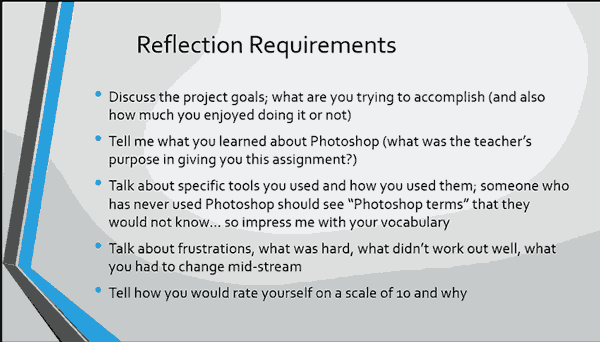 You are to Save and Publish frequently.
Publishing does not mean you are done, it means you want to publish to make sure it looks good and is there.
When you publish, you are to name it.